One of the first paragliding instructor in Japan - father of GIN team pilot Shoishiro Tadano - made a flight from the top of the Mt. Fuji with his beloved Yeti. Mr Naotaka Tadano is 60 years old... read the story of an incredible passion for free flight since 25 years...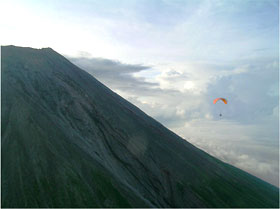 Mr. Naotaka Tadano, who is a director of TAK paragliding school and also a president of Japan Paraglider Association in Japan, took off from the top of Mt. Fuji (3,776m) with his beloved Yeti at 5:50 AM on the 3rd of August.
Sixty years old challenger Mr. Tadano, so called "Himalayan TAK" - in 1984 he achieved a world record by making a great flight from the peak of Mt. Kanchenjunga (8,598m), one of the peaks of the Himalayas - flew successfully over sublime and dynamic Mt. Fuji.
In fact he is the first person who made a flight from the top of Mt. Fuji with his hang-glider twenty-five years ago.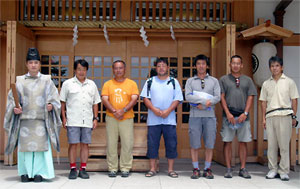 After they secured permissions from the tourist association, police and fire department of Fujinomiya-city where Mt. Fuji is located (it is usually very difficult to get this kind of permission in Japan), Mr. Tadano and his support team members first visited Sengen shrine at the foot of Mt. Fuji on the first of August in order to pray for safety.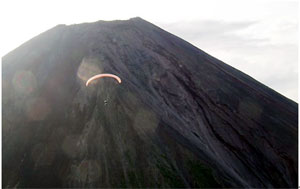 On the morning of August third, based on the information from the weather forecaster and a weak wind, they concluded that it would be possible to carry out the flight. So he finally took off from the top of the mountain, heading to Lake Kawaguchi.
Mr. Tadano's son (one of the support team members), Shoichiro flew with Beetle in tandem with a camera man and chased his father. The flight over Mt. Fuji went very successfully; he flew down about 3,000m altitude within thirty minutes. In a south tailwind, he flew at a ground-speed of 51km/h. Mr. Tadano enjoyed his flight against the backdrop of superb scenery of Mt. Fuji while talking with Mr. Hangai on his mobile phone.
Mr. Tadano's challenge will continue. His next dream is making a flight over Mt. Chomolungma with a live broadcast!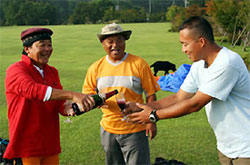 08/10/2005